House_Paint
Click on any picture to see full size.
I had planned to paint. When spot priming I found rot on the carport fascia. The rot resulted from little or no caulk in a joint. This put a damper on the painting plans for a while, but it had to be fixed before the new roofing work is started. For now I can only paint the front and south gable side. The rear and the north gable sides are going to be re-sided. I'll use Siding 11/16x10-R/L STK Cedar Bevel Dry. This is the same siding you can see on the gable end below with the chimney.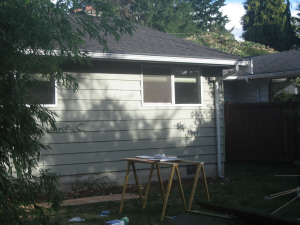 House Color
What color are you going to use? What color are you going to use ? I never concern myself with that because my answer is I'll know it when I create it. I mixed some river green, aquamarine, and purple to get this color. I took my sample to the paint store and asked them to show me the closest match to their color pallet. It didn't match any thing they had and I said "that's the color I want!"
Moorguard, Premium Exterior, Low Luster, Medium Base N103 2B
Seattle Green Lake 2-10-1729 Color Record
16 MGARD ACR HP ME BS
COLOR 2101729
YW 1 X 24
OY 0 X 2.0
BR 0X3.0
BK 2X1.0
Shed Door: Rustique AF-275
Table Top & : Wenge AF-180
Links
Painters
2018
Regal Select HB Exterior soft gloss White