---
National Doppler Radar Sites
---
U.S. Severe Weather Map
http://www.wunderground.com/severe.asp
---
NOAA
---
View from Satellite
http://www.fourmilab.ch/earthview/satellite.html
---
Maps and Cartographic Resources
---
Weekly US Map: Influenza Summary Update
http://www.cdc.gov/flu/weekly/usmap.htm
---
Seattle Traffic Cams
http://www.wsdot.wa.gov/traffic/seattle/
---
Washington Ferry Cameras
http://www.wsdot.wa.gov/ferries/cameras/
---
Mount St. Helens VolcanoCam
http://www.fs.fed.us/gpnf/volcanocams/msh/
---
NOAA Tides and Currents Station 9447427
https://beta.tidesandcurrents.noaa.gov/stationhome.html?id=9447427
---
Seismic Monitor
---
USGS Earthquakes: Feeds and Data (uses Google Earth)
http://earthquake.usgs.gov/earthquakes/feed/
---
---
Disaster Ready Government Site
---
National Climate Assessment and Development Advisory Committee
Letter to the American People Jan 2013 This is a very large file. I suggest that you right click and save it to your hard drive for reading. Its worth the effort, its a good read!
---
Every meteorite fall on earth mapped
https://osm2.carto.com/builder/69b575a4-758e-11e4-92a2-0e9d821ea90d/embed
---
Near Earth Object Program
http://neo.jpl.nasa.gov/fireballs/
---
Draught Map
http://droughtmonitor.unl.edu/
---
NASA International Space Station
http://www.nasa.gov/mission_pages/station/main/index.html
---
LHC, The Large Hadron Collider at CERN
---
Flight Tracker
---
Track Your Train
https://www.amtrak.com/track-your-train.html
---
TIME_NIST
---
Tax Foundation/ Maps
---
Space.com
http://www.space.com/20966-experimental-x-51a-scramjet-breaks-record-video.html
---
Science Friday
---
Journal of Experimental Biology
---
Index Mundi: United States Facts
http://www.indexmundi.com/facts/united-states/quick-facts/all-states/population#map
---
Real Color Wheel
---
http://info.kingcounty.gov/Assessor/eMap/default.aspx
http://www.kingcounty.gov/operations/gis/Maps/iMAP.aspx
http://www.ecy.wa.gov/programs/wq/stormwater/cescl.html
http://gismaps.kingcounty.gov/parcelviewer2/
http://gis.snoco.org/maps/property/index.htm
http://www.wsdot.wa.gov/mapsdata/tools/srweb.htm
https://epip.co.pierce.wa.us/cfapps/atr/epip/search.cfm
---
---
Library of Congress
---
Search Sites
https://www.semanticscholar.org/
---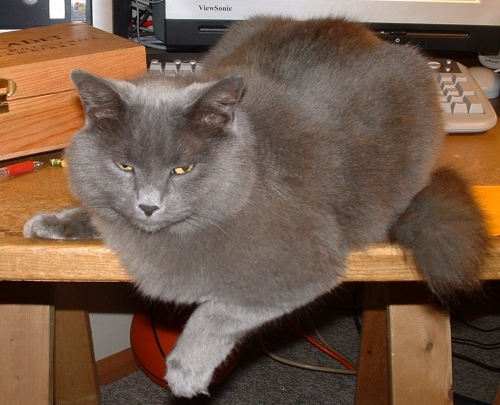 Kittie
RIP 07/06/2017
Kittie was a good loyal friend for 18 plus years. I found her abandoned in a vacant duplex rental as a young kitten. She was a runt at just under 6 lbs when fully grown. I learned so much from her. She was a constant joy to be around. Look at that attitude. She never ever stayed out all night. If she was outside and standing at the door there was no time to waste. I had to let her in so she could use the cat box because she wouldn't go outside. The last two and a half years of her life she was blind, had just one lung, arthritis, and going through kidney failure. Her soul really shined through, showing she was a pure angel inside. We did the best we could to keep going for as long as possible. I'm going to miss her something awful.
Nebelung (NAY-bel-ung)