OUTSIDE WORK TABLE
Click on a picture to see full size.
I find that I like designing and making tables. I saw a small table on vacation that had legs like these and so I supersized them here. This table is rated at 3/4 ton and is a bit on the heavy side to aid in stability.
Shown here with the legs and skirt assembled. The legs are made of treated lumber. The skirt will be painted white. After the treated lumber dries out, I'll stain them with a dark stain. The legs are assembled with polyurethane glue and stainless steel pocket hole screws. The skirt is attached with 3/8" carriage bolts and 1/2" lag bolts. The top will be attached with pocket hole screws from inside underneath.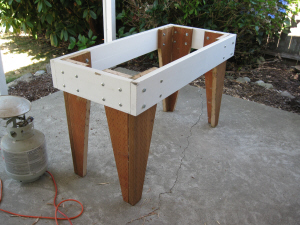 This shows a dry fit of the rough cut table top lumber. After the final cut they will be sanded, primed with an oil base primer, and finished with a latex. The top will be a contrasting deep purple color called wenge.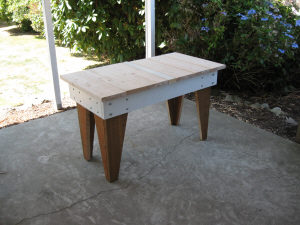 :
I have stained the treated lumber legs with an oil based teak color stain, #321, made by Benjamin Moore. The skirt has its final coat of gloss white. The top sections have the first coat of latex over the oil based primer. This will take some time to get a three coat coverage. I must wait for each coat to dry, so I can sand and then apply the next thin coat. I'm looking for the rich deep color and the protection from weather and wear. Its fall now, so the painting is being done in the shed.
This table will make fine, waist level, outside cooking table that I can put the Webber Smokey Joe on.
Second coat on the top. That's nearing the look I'm going for.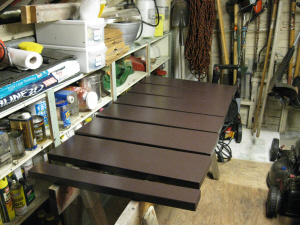 :
Dry fit of painted top. The three tone color scheme looks good to me. I'll use pocket hole joinery and stainless steel screws from inside the skirt and under the top to attach the top to the skirt. Four screws per board ought to do it.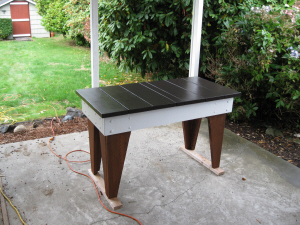 :
After two years of usage this table is holding up well. I use the cedar trays to protect the top from the bulk of the damage.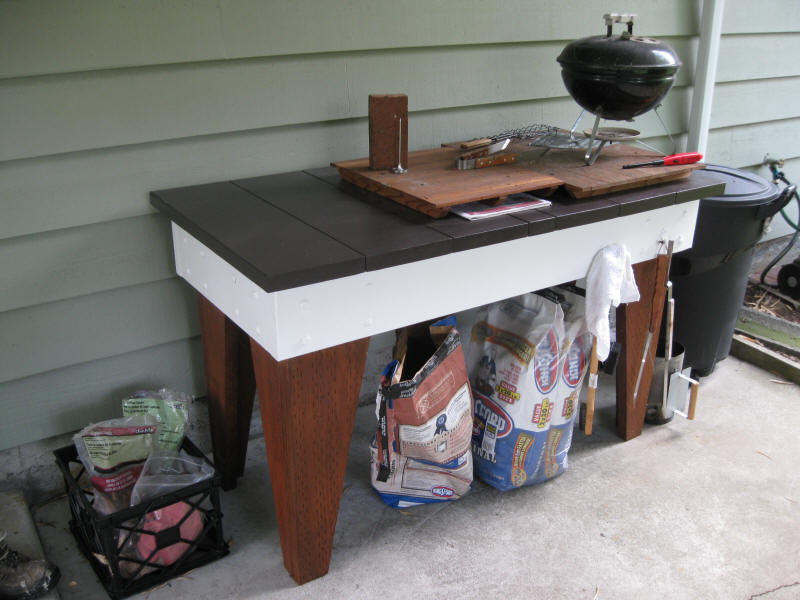 Primer
Benjamin Moore Fresh Start Penetrating Exterior Alkyd Primer 100
: