"Pencil hardness" redirects here.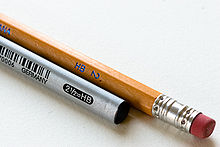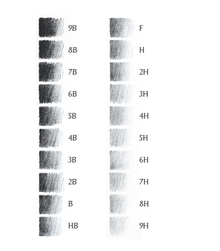 Many pencils across the world, and almost all in Europe, are graded on the European system using a continuum from "H" (for hardness) to "B" (for blackness), as well as "F" (for fine point). The standard writing pencil is graded HB. According to Petroski, this system might have been developed in the early 20th century by Brookman, an English pencil maker. It used "B" for black and "H" for hard; a pencil's grade was described by a sequence or successive Hs or Bs such as BB and BBB for successively softer leads, and HH and HHH for successively harder ones.[18]
As of 2009, a set of pencils ranging from a very hard, light-marking pencil to a very soft, black-marking pencil usually ranges from hardest to softest as follows:
9H
8H
7H
6H
5H
4H
3H
2H
H
F
HB
B
2B
3B
4B
5B
6B
7B
8B
9B
Hardest
→
Medium
→
Softest
Koh-i-noor offers twenty grades from 10H to 8B for its 1500 series;[19] Derwent produces twenty grades from 9H to 9B for its graphic pencils[20] and Staedtler produces nineteen from 9H to 8B for its Mars Lumograph pencils.[21]
The main market for such wide range of grades are artists who are interested in creating a full range of tones from light grey to black. Engineers prefer harder pencils which allow for a greater control in the shape of the lead. This is reflected in the way pencils are packaged and marketed. For example, for its Graphic pencils Derwent offers three packages of 12 pencils each: Technical (with hard grades from 9H to B), Sketching (with soft grades H to 9B), and Designer (with medium grades 4H to 6B).[citation needed]
Pencils graded using this system are used to measure the hardness and resistance of varnishes and paints. The resistance of a coating (also known as its pencil hardness) is determined as the grade of the hardest pencil that does not mark the coating when pressed firmly against it at a 45 degree angle.[22][23]
Another common method uses numbers to designate the grade of a pencil. It was originally created by Conté and adopted in the United States by John Thoreau, father of Henry Thoreau, in the 19th century.[24] The following table shows approximate equivalences between the different systems:[25]
| Tone | U.S. | World |
| --- | --- | --- |
| | #1 | B |
| | #2 | HB |
| | #2½ * | F |
| | #3 | H |
| | #4 | 2H |
* Also seen as 2-4/8, 2.5, 2-5/10
Although Conté/Thoreau's system is widely accepted, not all manufacturers follow it; for example, Faber-Castell uses a different equivalence table in its Grip 2001 pencils: 1 = 2B, 2 = B, 2½ = HB, 3 = H, 4 = 2H.
The various graphite pencil grades are achieved by altering the proportion of graphite to clay: the more clay the harder the pencil.[26][27][28] Two pencils of the same grade but different manufacturers will not necessarily make a mark of identical tone nor have the same hardness