Electric Service Upgrade
The meter was 100 amp and the panel is 200 amp. Not good. I had the meter and entrance upgraded by an elecrician. The old banjo type power meter and masthead had to be replaced with a new code compliant meter base and masthead. The wire gauge from the drop to the meter and through into the panel's main was upsized. After it is inspected by Labor & Industries, I'll have the PUD come out and upgrade the drop.
L & I inspection 10/04/2010.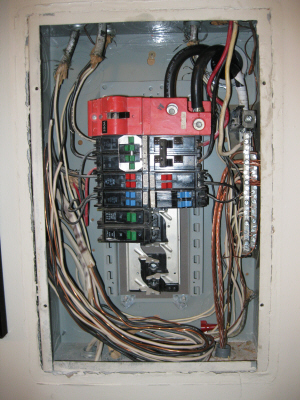 :
After the first inspection by the PUD, their engineer informed me that I needed to provide a meter that is 6' from grade. The old meter and it's replacement are at 7'+.
: