Roof, Siding & Insulation 2010
West side and north gable.
PLANS
This year the roof will be re-shingled, the west and north side will have new siding and after the old siding is removed closed cell polyurethane insulation will fill these walls. Before this happens I wanted to integrate the porch roof into the existing house roof line. This will result in a shed dormer like roof line.
Brian Palidar owner of grouparchitect prepared the architectural plans. www.grouparch.com
I'm really happy with the design results. Brian kept it simple and knew how to match the existing 1950's style of he home maintaining its character. I got a very good value for the cost. I chose grouparchitect as his website talked about everything from sheds to major buildings. I concluded, and this proved to be true, that he just loves buildings, big and small, and that that is what I wanted from an architect. See the plans here.
PERMITS
The city of Edmonds requires a roofing permit when there is any modification or change to the roof or the roof sheathing. With the plans prepared by grouparchitect, the quote from Addicott Roofing and a material and labor estimate for the rafter, knee wall and sheathing material and labor I acquired the permit. The total cost was $456.50. Two inspections are required; B-FRAIMING and B-FINISH.
:
Design started April 4th. Permit acquired August 17th. Final building inspection October 1st. Electric inspection October 4th.
:
:
Shingle Choice
Landmark TL Max Def Black Walnut
From the CertainTeed web site:
OVERVIEW
Your home deserves the Triple Crown. Three laminated layers of the industry's most durable materials, providing a dramatically thick roofing product styled with the classic appeal of wood shakes. Landmark TL is the triple performance shake that has the hand-split look of cedar and the durable dimension of tri-laminate technology.


•Tough, patented 3-layer laminate design provides ultimate durability and the dramatically thick roofing style of classic wood shakes.
•Random tab design and unique natural shadows gives luxurious dimensional character to the shingles.
TECHNICAL INFORMATION
•Three-piece laminated fiber glass construction
•340 lbs. per square
•UL Class A fire resistance rating
•UL certified to meet ASTM D3462
•UL certified to meet ASTM D3018 Type I
•ASTM D3161, Class F, 110 mph wind resistance
•Miami-Dade Product Control Acceptance
•Conforms to CSA standard A123.5
INSTALLATION
Proper Installation is Critical.

Applying a roof system correctly is essential to the warranty and performance of the roof. Backed by over 100 years of excellence in the roofing industry, CertainTeed developed a complete set of installation instructions for their roofing products in both English and Spanish. These installation instructions describe and illustrate the steps involved in installing CertainTeed asphalt roofing products.

Click on the link to the right for the installation instructions on Landmark LT shingles.

NOTE: To view a listing of credentialed roofing companies in your area who install CertainTeed products, click on the "Find a Roofing Contractor" link located in the left navigation bar.

WARRANTY
•Lifetime, limited transferable warranty
•10-year SureStart™ warranty (100% replacement and labor costs due to manufacturing defects)
•15-year StreakFighter™ warranty against streaking and discoloration caused by airborne algae
•10-year, 110 mph wind-resistance warranty
•Wind warranty upgrade is available for Landmark TL up to 130 mph. CertainTeed starter and CertainTeed hip and ridge are required
:
Shingle Installation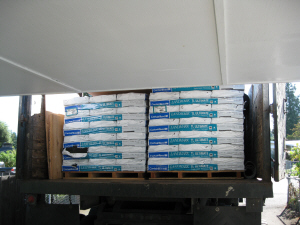 :
Insulation
This house was built in 1953. It had no insulation in the walls. Cardboard was used between the shiplap sheathing and the cedar shingles. No wonder the paint would not stick. All of the cardboard was removed. Holes were drilled at the bottom of the window line and about 9" below the soffit in each void between studs. Using the Tiger Foam Insulation took a little practice to determine how much to use. I counted, one thousand one one thousand two... to figure the amount. It took several cavities to get it right. Tiger states R values from 5.9 to 6.2 per inch. Whatever it is, this house is going to approach a betterment of 20 times the original R value. The Tyvek will create the much needed wind and vapor barrier. The cedar siding will be back primed to help stabilize the hydrostatic pressure to keep the paint on. Inside I will paint with two coats of a vapor barrier primer under a coat of latex.
:
Weatherization Barrier
:
Priming
Including some spot primer on the front, I used 8 gallions of primer. Benjain Moore's Fresh Start Fast Dry Alkyd Primer 094. These pictures show the priming of the 1100 feet of cedar siding.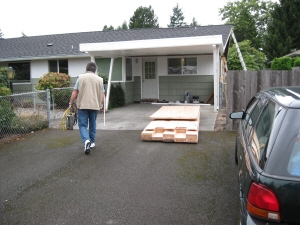 :
Siding Installation
:
See the before and after pictures of the electric service upgrde.
: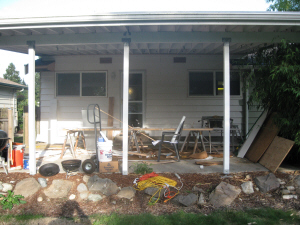 :
:
CLEAN UP
There was only one little trash can required.
:
:
Complete
One of the last things that needed doing was to re-attach all the FIOS service equipment and all the phone and coax wires. Everything except the fiber optic drop had to be re-terminated as the best way to re-run the wires created knots. One of the ground clamps came up missing... there is allways some reason for another trip to the hardware store.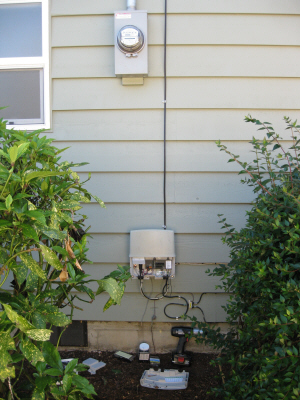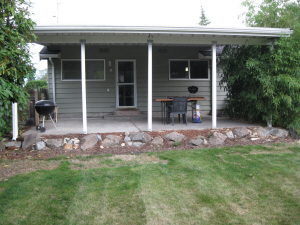 :
Before & After
Spring 2008 and Fall 2010.
:

Links
Limited Asphalt Shingle Warranty - English

SureStart Warranty

Landmark Wind Warranty Upgrade Sell Sheet
Benjamin Moore's Vapor Barrier Primer Sealer 260