Spice Rack
Every kitchen must have at least one.
These spice racks will be mounted to the inside of the doors of the cabinet that is over the 40" range. One on each door. This way when I am cooking I can have the doors open and the most used spices will be brought out closer to me in front of the range hood. The range hood vent duct extends up through this cabinet. It will be boxed with 1/4" plywood. This will insure no heat transfer in the cabinet to help maintain the shelf life of the spices.
The top shelf is configured to hold five restaurant size McCormick spice containers. The bottom shelf can hold normal spice containers two deep. The rack is made of quarter sawn lyptus with 1/4" Baltic birch (Russian) plywood shelves. With the exception of the plywood, the design resulted from the available cutoffs and scraps available in the cutoff bucket at the time of the work. The joinery is primarily mortise with floating tenons. This is my first attempt at using floating tenons. I like them. Each of these racks weighs about 4 pounds. I expect each spice rack when full of spices to weigh in the range of 14 to 20 pounds.
I'll finish the racks by first using two coats of de-waxed shellac as a sanding sealer. It is winter now and the finish booth has been disassembled for the season. I'll be finishing the racks inside so I'll use Olympic's Premium Interior Water Based Polyurethane for the final finish. Two thin coats ought to do. I really like Olympic's products due to their high quality. If you care enough to make something, use the best premium products you can get to finish and protect it.
:
DESIGN SKETCH
(I draw these perspective sketches in AutoCAD 2000)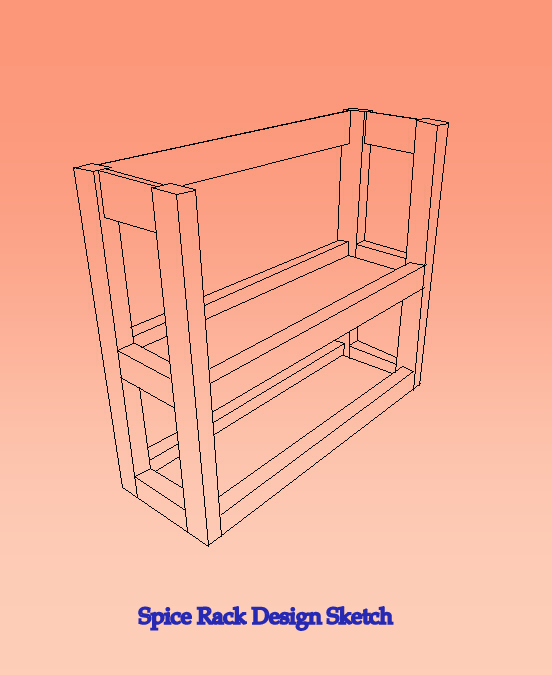 :
Click on any picture to see it full size.
Spice rack cabinet complete with the birch plywood and lyptus plenum for the 3" x 10" galvanized range hood exhaust duct.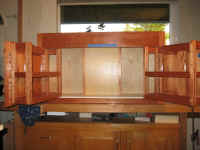 :