DOVETAILS AND BOXES
I'm building boxes for practice to learn how to build drawers for my future kitchen rebuild project. I figure I'll need to build about a half dozen of these to get to a point where I'll feel comfortable doing this with some real wood for the kitchen cabinet project. In the mean time I'll be using these to hold stuff in the woodshop, shed or around the house.
Click on picture for full sized image.
See the Making of a Dovetail Box.
---
First Try, Box #1 Made of Pine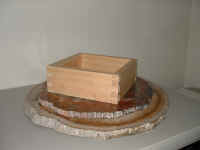 ---
Box #2 Made of Pine
This is my 2nd box attempt, joints 9 through 12. This is the first attempt at a blind grove at the router table for the bottom panel. Sharp chisels and a good saw really help doing dovetail joints. This box will be used hold my whetstones and sharpening tools. The pine and plywood cost less than $1.23, purchased from the Home Depot scrap bin. I applied one coat of Benite wood sealer. This is a linseed oil based wood sealer.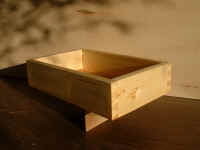 ---
Box #3 Made of Douglas Fir
This is box #3. The wood is 4/4 Douglas Fir, not the best choice for a drawer as this wood is brittle and chips easily. The go for broke method of marking and then cutting once with saw and chisel creates imperfect dovetails for me with no experience at this. This joint you see has one perfect fit tail and pin and the rest are poor examples.
I will be trying a new method next. I will cut shy of the marks; then use a coping saw instead of a chisel for cutting the rear, again shy of the mark, then with sharp chisels and homemade jigs chisel thin shavings and creep up on the marks to get a perfect cut and a tight fit.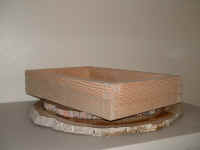 ---
Box #4 Made of Alder
Alder, I found out, also chips easily. This wood smells so good. All the boxes above have A/B 1/4" Fir Plywood bottoms. This box has an A/A 1/4" Luan Plywood bottom. I will be using pre-finished 1/4" Baltic Birch for the bottom of the kitchen drawers. I'll need to get an assortment of shop roll abrasive for bottom and top finish treatment.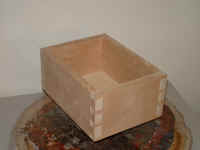 ---