Samplitude 4.0 Features
-> New features in samplitude 4.0 <-
Unlimited tracks in virtual projects for endless creativity.
Track bouncing to combine any number of tracks including all real-time mixer effects to record more tracks after system limits are reached.
Unlimited support for multiple input/output wave compatible sound cards, so you can expand your hardware as needed.
Simultaneous recording and playback of any number of tracks, allowing you to transfer 8 or more tracks into the computer at once.
Native 32 Bit code for Windows 95 and Windows NT for optimized performance.
All plug in's included free and directly linked for optimized performance.
Mixer Window with Mute, Solo, Volume, Pan, 3 band parametric EQ, compressor, expander, noise-gate, distortion, delay and 2 Stereo AUX sends per channel, put big bucks power in your hands!
Mixer automation with recordable, moving volume faders and pan knobs for professional mixing.
Master section of mixer with Stereo Imager, EQ, Dynamics and Phase-Correlater for the final touch.
All mixer effects are processed non destructive and in real-time through highly optimized assembler programming. No waiting and continuously variable like on real world mixer.
Perfect synchronization to SMPTE/MTC/MC as master or slave to run Samplitude with any other sequencer, video or tape recorder.
Room simulator applies any reverb in the world to your recording. Now sing in the shower without getting wet.
FFT Analyzer and free hand drawing of filter curves for analyzing and a unique way of audio shaping.
Improved high quality time stretching and pitch shifting even at high transpose factors (with preview function) to correct length or pitch of your recordings without anybody realizing it.
Virtual Normalize. Level changes are calculated in real time for best signal to noise ratio.
De-noising module to magically remove any kind of noise, hum etc. and even clicks from old vinyl records for the cleanest possible sound even from bad sources.
De-clipping function to magically correct distorted recordings to save these "almost" perfect takes.
MPEG Audio Import and Export with a 1:10 compression factor for fast and simple Internet transfer and efficient storage.
Display of AVI (video) frames in virtual projects (VIP's) to line up audio and video.
Audio Import/Export from AVI files for fast and easy editing and adding sound to AVI movies.
* TOC (Table Of Contents) File creation for audio CD mastering with CDaudio Plus.
Direct audio import via most SCSI CD-ROM drives for quick digital transfer from audio CDs
Mono objects can be used in Stereo projects to combine recordings from different sources.
Free-hand drawing of pan curves in virtual projects for great automated Stereo effects.
Track sensitive cutting functions with auto cross-fade mode to cut, copy, insert, overwrite and clear audio regions as easy as text blocks in your word processor.
Real-time Surround effect puts your instruments in space or right in front of your audience.
Support for the new Microsoft Intellimouse that has a wheel/button between the two regular mouse buttons. Start and stop playback, zoom and scroll faster and easier than ever before.
CD-ROM with 60 minutes of AVI instructional video and sample files get you started immediately without reading the manual. (Two of which are included)
Comprehensive tutorial and reference manuals answer all your question 24 hours, 7 days a week.
Only $ 599 list price including all plug in's.
Fully functional demo version that records up to one minute audio available from the HOHNER MIDIA website...www.hohnermidia.com
Samplitude Studio 4.0 Package
Professional audio editing in realtime
Thanks to completely new native 32-bit code for Windows TM 95/NT Samplitude Studio offers you the absolute finest quality for non-destructive audio-editing. A never-before-seen amount of Real-Time volume and DSP power allows you to break new ground in software mixing, enabling you to return to your pristine original recording at any time.
Non-destructive editing on up to 999 virtual tracks.
Multiple projects can be on screen at once.
"On screen" mixer with Volume, Panorama, Eq, Dynamics Control knob on each channel - all effects are calculated in realtime! Master section with Stereo Enhancer, Eq, Dynamics and Phase Correlation Display.
Virtual realtime normalizing.
Track sensitive editing in virtual projects.
Several windows per project, e.g. for Loop search.
Realtime Fades/Crossfades with various curves.
Crossfades from mono to stereo files in one track.
Realtime drawing of Volume and Pan curves.
Automatic Loop optimization.
Track bouncing to combine many virtual files into one wave file.
High Speed, High quality physical wave processing
(e.g. cutting, normalization, fading, crossfading, echo, reverb Eq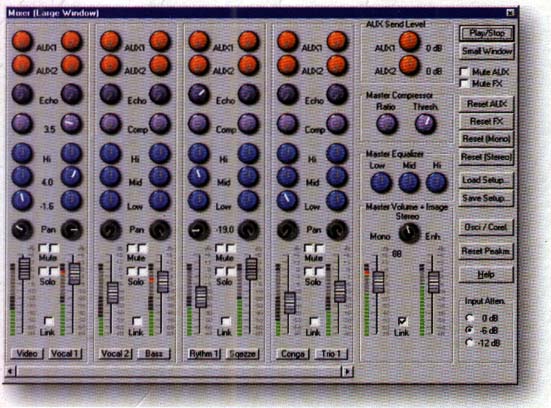 Hardware Independent Hard Disk Recording
In contrast to other systems, Samplitude Studio requires no special audio Hardware. This allows the user to decide which sound card and number of inputs and outputs they prefer Samplitude Studio routes each track separately and supports several cards simultaneously
Support of all Windows' -compatible 16 Bit Analog and Digital sound cards.
Record while Playing in unlimited tracks.
Supports several Analog and Digital sound cards in simultaneous operation.
Multiple I/O function - perfect for use with multi tracking cards, e.g. the ARC 44 and the new ADAT interface cards
Unique Effects and Sound Filters
Highly optimized 32-Bit Assembler code guarantees quality and high speed effects processing. Samplitude Studio's effects and sound filters are second to none!
FFT filter/analyser with freehand drawing tool.
Noise Reduction tool for eliminating noise/hum etc...
New smooth Time-stretching algorithm.
Realtime-Resampling while playback and recording.
Declipping function for repairing overmodulated recordings.
Distortion effect to simulate analog distortion.
High quality digital sound filters (graphic EQ, 3 band full parametric EQ).
Room simulation for creating natural sounding reverbs.
Powerful dynamic section with Compressor, Expander, Noise-Gate and Distortion/Overdrive with realtime preview.
Realtime Surround-Effect.
Convolution tool for enhanced effects such as reverb, delay and experimental sound editing.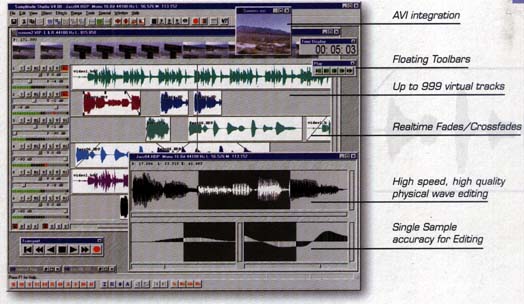 AVI integration
Floating Toolbars Up to 999 virtual tracks
Realtime Fades/Crossfades
High speed, high quality physical wave editing
Single Sample accuracy for Editing
MIDI-Synchronization, Import and Export
Samplitude Studio integrates seamlessly into your existing studio setup. Whether Audio for Video, Audio or Multimedia project studio, the comprehensive sync options reilably combine Sampiltude Studio with your existing equipment.
External synchronization via SMPTE/MTC/MC (Master and Slave). Real 'Chase Lock Sync".
Runs in multitasking with MIDI-Sequencers.
AVI integration. Display of video thumbnails in the timeline. Import and export of AVI audio data.
Audio CD data copy for most SCSI CD ROM drives (Only Windows 95).
MPEG Import and Export (1:10 compression).
Import/Export of WAVE-, AIFF-. Sample-Dump-Files
Audio CD TOC generation for CD-Mastering.
Easy orientation and object management
Samplitude Studio has various options with which you can orientate and move quickly and easily within your project.
Locators can be placed during recording.
Ranges and cursors can be manipulated during playback.
All cursors and ranges can be saved.
Autoscroll and Varipitch while playing.
Various raster functions e.g. BPM, Samples, Millisecondes, SMPTE- and CD-A-Frames.
"Snap to-Option (objecte, bars, ranges, ...).
Key Features
Non-destructive Audio Editing on up to 999 virtual tracks.
Complete Production Power from Multimedia to Multitracking to CD Mastering.
Overdub using Multiple Audio Cards (analog and digital cards simultaneously).
Professional Realtime Effects: Equalizer, Compressor, Delay, Panning and Faders for each channel.
Interactive mixing control surface: All functions are Real-Time.
Editing Power: High quality Time
Stretching, Resampling, Distortion and innovative new filter effects.
Content of the package
Samplitude program disk
CD ROM containing: Samples, Projects, Tutorial Files and AVI Video demos.
Tutorial Manual
Reference Manual
System requirements
IBM compatible PC, 486 or above. (Number of usable realtime effects directly dependant on computer capacity.)
WindowsTM 95 or WindowsTM NT,
CD-ROM Drive
min. 16MB RAM
HOHNER MIDIA
Postfach 1154
D-74622 Bretzfeld
TeI.07946/776-68
Fax.07946/776-60

HOHNER MIDIA®, U.S.A.
PO.Box 5497
Santa Rosa, CA 95402
Tel.707-578-2023
Fax.707-576-2025

SEK'D - Studio fur elektronische Klangerzeugung Dresden
---
Reprinted from SEK'D press release and package.

---