What is happening to Cakewalk?
As of November 17, 2017, Gibson Brands, Inc, has officially ceased new product development of all Cakewalk branded software.
After 30 years Cakewalk has stopped new product development. Their website says their servers will be maintained for us users. I grew up with them and their products and am not moving to any other developer.
---
SEK'D
https://pro.magix.com/en/samplitude/overview.459.html
Samplitude Studio 4.0
With SEK*D Samplitude Studio 4.0 I bring in the eight tracks from the DA38 to the SCSI hard drive and can process and mix-down to two tracks.
Now I'm using Cubase Pro 11
---
Sonic Quest
MIDI QUEST 9 Editor Librarian for all the synths.
---
Apogee
https://www.apogeedigital.com/products/
FC-8. No longer supported and nearly forgotten by Apogee. This product won awards at NAMM in 1997. I'm guessing it didn't sell like hot cakes and barely a mention on their website. Almost impossible now to find any data on the web about the FC-8 now. It still works great.
S/N 01362 rev b3
This is the interface format converter from the Korg 1212IO to the Tascam, ADAT to TDIF-1 via an ADAT Lightpipe fiber optic jumper (data is ADAT Optical) with Word Clock transport via coax from the DA-38 and through the ADAT Lightpipe to the Korg 1212i/o .
Click on the picture to see full size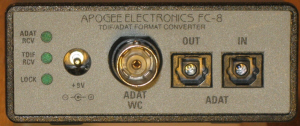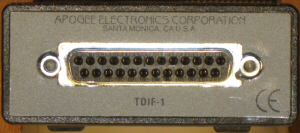 While there are lots of possible configurations for my normal setup where I have recorded from the mixer to the DA-38 and are copying music from the DA-38 through the FC-8 through the Korg 1212 i/o to the hard drive on the PC using SEK*D, I setup the wiring like this block diagram. Then set the Korg 1212i/o Word Clock to "Internal" (using the Korg 1212IO Utility on the PC) and push in the "Word In" button on the DA-38. With the optical connections made, the bottom green light (Lock) on the FC-8 is continuously green. When data is transmitted the top two green lights (ADAT RCV and TDIF RCV) are continuously green.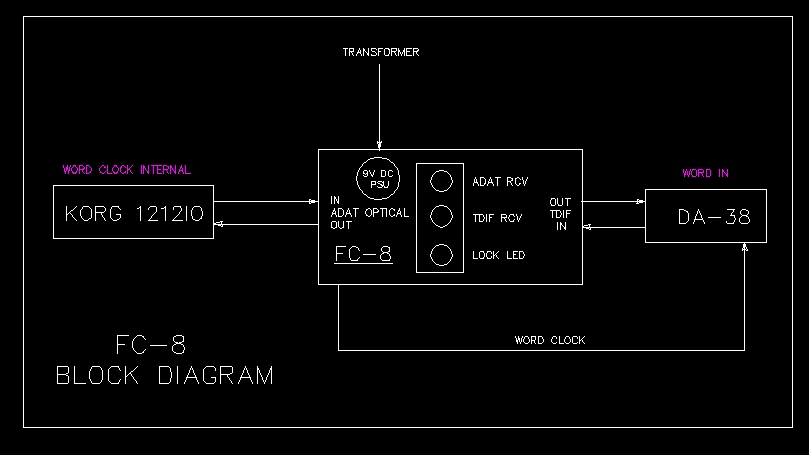 https://www.synthmind.com/lightpipewordclock.htm
https://www.synthmind.com/interconnecting_apogee_fc8_and_Korg1212io.htm
---
---
Tenma 72-320 Oscilloscope
This oscilloscope will do fine for monitoring a mix.
XYZs of Oscilloscope Link to Tektronix
Click on picture to see full size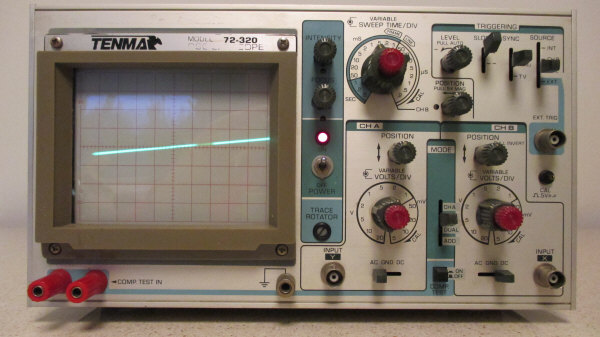 Connections
CABLE,6',RG59U,BNC MALE TO
RCA MALE
<![if !vml]>

<![endif]>
Part no. 683059

Manufacturer

JAMECO VALUEPRO

Manufacturer no.

11X1-02106
---
Digital Music Corp
MX-28 MIDI Patchbay/Merger Plus
I used this to drive an array of synthesizers prior to the MOTU MIDI Timepiece AV. Power supply is 9v 300ma. I have used this as a MIDI Mixer on the backside of a MOTU merging MIDI streams from two different paths. It also can do inversions of chords somhow.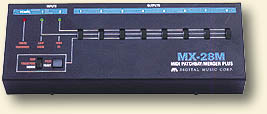 ---
Applied Research and Technology
I use this tube pre-amp for DI applications with the Fender Rhodes 73 Stage.
Click on the picture to see full size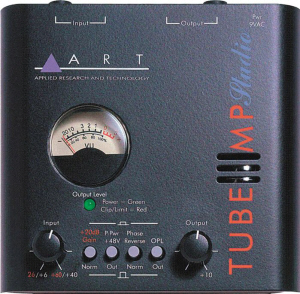 This is how I set these Tube MP amps from the Rhodes to the Tascam DR-40X. The output of the Rhodes is very hot and overloads the DAC's. These amps allow for the reduction of volume while allowing for the overdrive, like a compressor.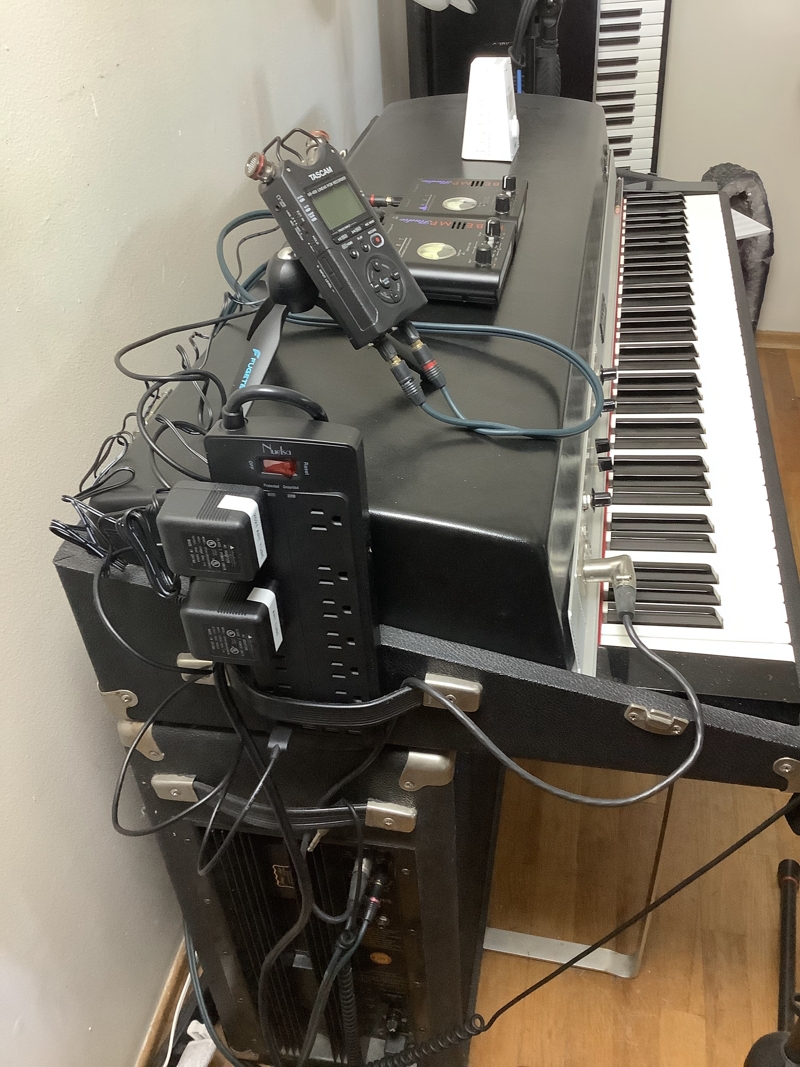 ---
I made this router switch to enable some basic routing functionality for monitoring and recording. See the Studio Schematic for details. The switching of any circuit requires moving two DPDT rocker switches, one for each channel. I wired this parallel, without a common ground, to eliminate the potential for ground hum or bucking battery. In the center position, the circuit is dead ended. Pushing up or down directs the source to the destination chosen. This switch saves a lot of hassle getting into the back of the rack and moving cables around all the time. This device introduces no measurable loss, no bandpass filtering, and introduces no noise into the audio spectrum.
---
Fender Rhodes
Fender Rhodes Repair Information.
The Fender Rhodes Mark 1 Suitcase and Stage 73 Key Electric Pianos
I purchased my first Fender Rhodes at Broadway Piano, on Broadway a few blocks south of the Denver Art Museum. I think Joe Onofrio owned the store. Fender Rhodes Case 73 in 1973.
I spent my all my spare time, after the main day gig, working my licks. I learned about music theory with the help of this wonderful instrument in my one room apartment and with the help of my elementary orchestral music instructor at night and on weekends at the theatre four blocks away. There I had to do the clean up of the burnt rods and lunch bags, every night, in that old-town theater in North Denver where I learned to run a projector, change reels, replace rods and splice film too!
The quality of this particular piano was very good. Every key was balanced and of equal weight. Wonderful light action produced a mellow vibe thing, yum and restful. Forceful staccato strikes produced a real funky tonal effect. Simply explained as sexy and expressive like man in the machine age. The vibrato effect was pulsing and complex like a Leslie Speaker. Great with rhythmic and funk pieces and expressive with soulful slow pieces.
I now own two of these, a Stage 73 and a Suitcase 73.
---
Studio Monitor Series Stereo Headphones
I'm now using Yamaha HPH-MT8 headphones. One thing I really like about these; the cable plugs into the headphones. They are not hardwired. So when I'm finished where I'm sitting on a stool working with a component low in the system auditioning with the headphones and get up not realizing I have a foot on the cable they don't break or rip my ear off. They just come un-plugged. NICE!. What I don't like is that they are too heavy for the amount of padding on the crown. They can bother my noggin top. Not a show stopper. They reproduce sound accurately in the high and midrange but roll off in the low frequency like all small diameter plates do. They are great for practice, composing, and a part of mixing.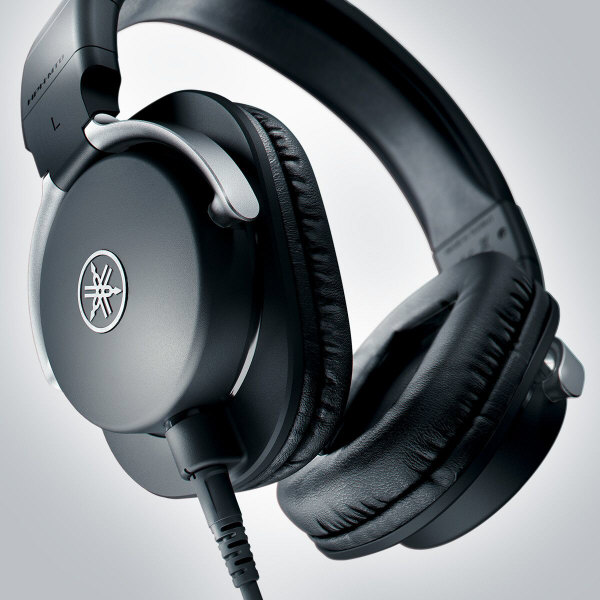 ---
Batteries


Alesis MV4

= CR2325, Holder

EMU Proteus/01

EMU Proteus FX

Korg X5DR

= CR2032? Soldered

Korg NS5R

Korg MS2000R

MOTU MTPAV (two)

= CR2032, Holder

Yamaha FB01

= CR2032, Soldered

Yamaha TX81Z

Waldorf Micro Q.
---
General MIDI Information
SOME MIDI CHARTS
Reason MIDI Implementation Chart
Waldorf MIDI Implementation Chart
: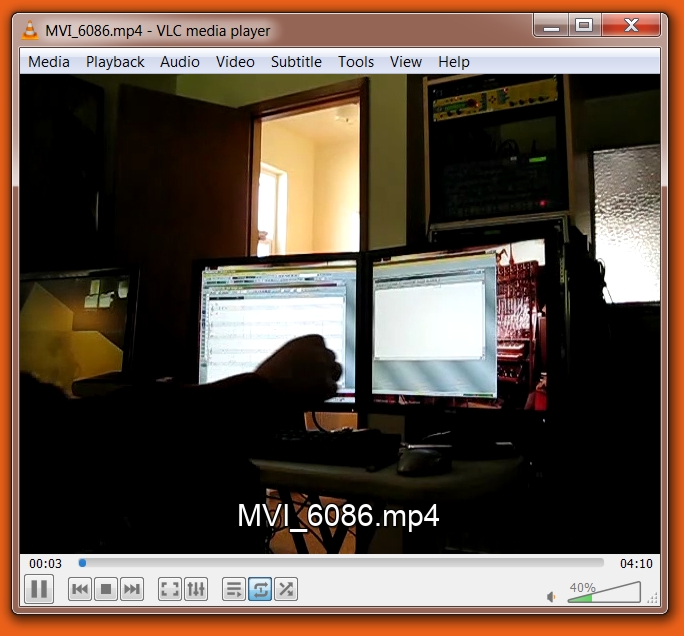 ---
Library of Hard Books and PDFs.
I'm just not going to rip apart the bound books. Here is what I have or have found. All others I have scanned, found on line, or have yet to scan.
:
Boot Sequence: Korg SoundlinkDRS 1212 I/O
:
See the Rack before the 2012 rebuild.
EQUIPMENT RACK
Dimensions
:
Rack 3
This is a mid-sized equipment rack with 42" rails.
I'm using pre-finished birch plywood, pocket screws, and Baltic birch plywood. The casters are from Harbor Freight. The plan is to build one more of these and a two to three more of the two footers. The objective is, with these and a table I can set up a more user friendly workspace. A four sided open box isn't strong. Install the equipment in it and it's a five sided box, very strong. I have installed two power strips, in series, for all the equipment. The rule is you will always run out of electrical outlets. The top switch in the rear turns on everything in the studio.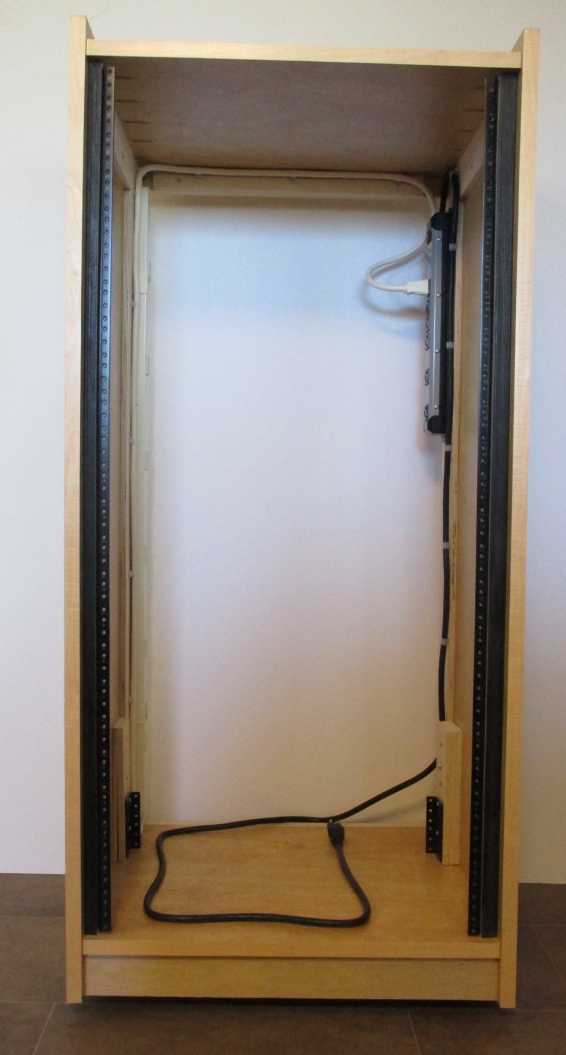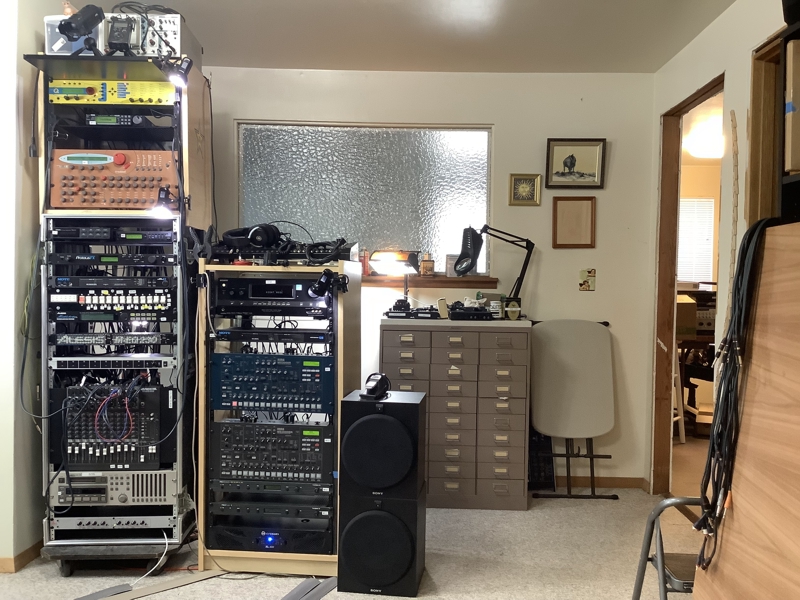 :
---
Deeper
O' the joys of vintage gear.
To be able to get to the point where maintenance of vintage gear is possible it takes, luck, care, and MOVs (metal-oxide varistors).
All the devices that have user ROM allocation for user settings to be saved in have batteries to retain the information. Usually lithium type coin batteries. Some have battery holders and some are direct soldered. All of these batteries need to be changed out. The devices with batteries in battery holders are a piece of cake. The devices that require de-soldering and re-soldering are, of course, more difficult and have a higher risk of beflamadoodling which renders them knackered and useless. I'm looking into what it would take to insert a battery holder to eliminate more soldering in the future.
: