Bathroom Rebuild 2013
Late 2012 the full bath's toilet's wax seal gave up. I had to replace the sub floor, install a flange and lay down new flooring. So, I kept going. Getting rid of the galvanized water pipes was on my radar for a long time so I had the plumbers in and re-piped the entire hot & cold feeds in the house. This 1957 home was plumbed with iron pipe and they were rusted and clogged. All the piping from the main to the taps were replaced with PEX. They say I can't expect any return on this investment when I sell, that buyers don't care what's inside the walls and that they expect all the infrastructure to be good. Am I the only one in America to watch the DIY & HGTV channels? I think not all buyers are so uninformed.
The original bathroom sink had seen better days. It was an enameled cast iron sink that was rusted where some of the enamel had chipped off. Very, very ugly and depressing. Hooray time to blow all that away too. The new sink will be a Kohler Tahoe K-2890 Cast Iron White Under-mount Bathroom Sink. Not your typical D sink used in a bathroom. This is a rectangular deep bowl bathroom sink. The faucet (and most of the hardware) is Moen Brantford Collection 6610BN. The countertop and backsplash will be Coffee Brown Silestone. Shopping online I found the medicine cabinet I wanted. An Afina Broadway 48" x 30" triple door with full mirrors, inside and out. Next I had to get rid of the ugly hanging lights. A 1950's ranch should never have any light that hangs from a chain! Many did. I found the two large sconces. Minka Lavery 6-3/4" W x 17-1/4"H Brushed Nickel and Etched Opal Wall Sconces. Perfect until they were juiced up and turned on. Not enough light was emitted through the "opal" frosted glass for all needs. The two 100 watt bulbs in each sconce was enough for most needs though. So back to the web. I found the Kichler 6464NI Structures Nickel 40" Wide Bathroom Fixture. This thing puts out so much light it hurts. Ouch. A rheostat switch will be installed to bring the lumens down. Wired on a separate switch will allow the cooler sconces to be used normally and the over mirror lamps only when needed. So much for form over function. Function took the lead here.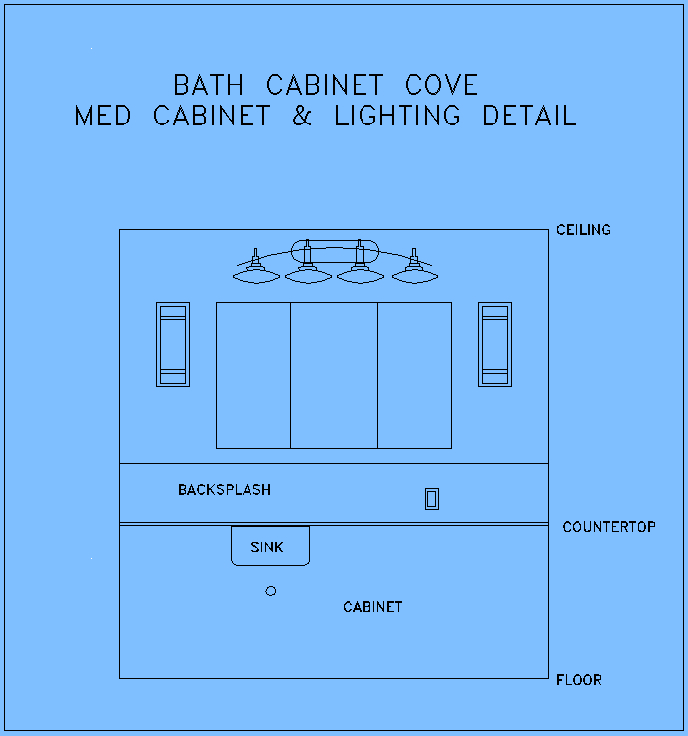 Old Iron Pipes
Getting all of the old galvanized iron pipes out of the house was a necessary and expensive renovation essential. This is what 56 years of water standing in iron pipe does to it. Gross, yes?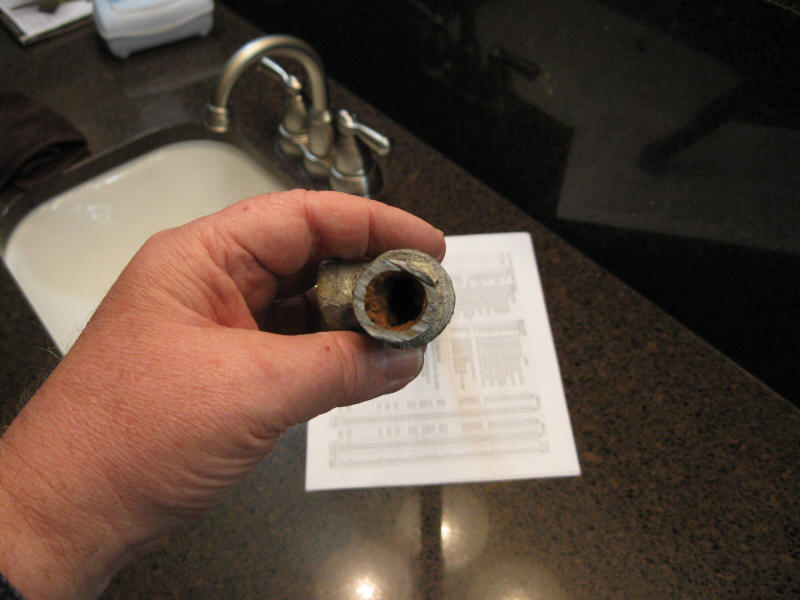 :
Medicine Cabinet by Afina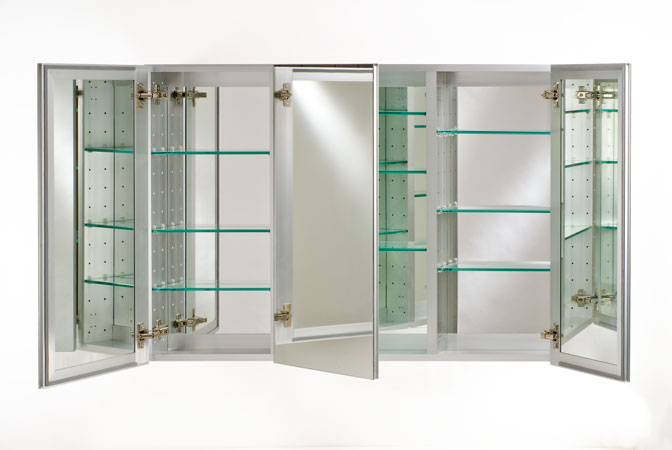 Broadway Installation Specification
: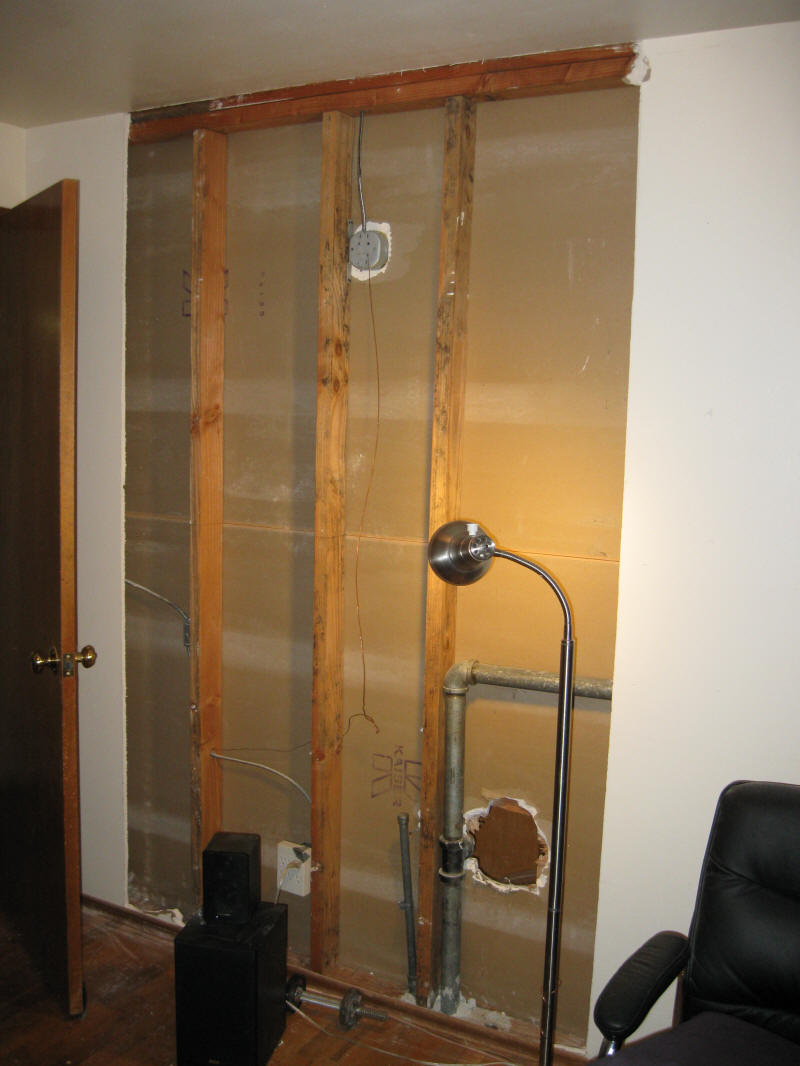 Framed
Yes, there is no header. This is a non-supporting wall. It is parallel with the joists. Also the joists don't line up with this wall. Yeah there is no direct loading line for the end studs. I'll reinforce as much as I can.. Getting this med cabinet centered is important. Form over function.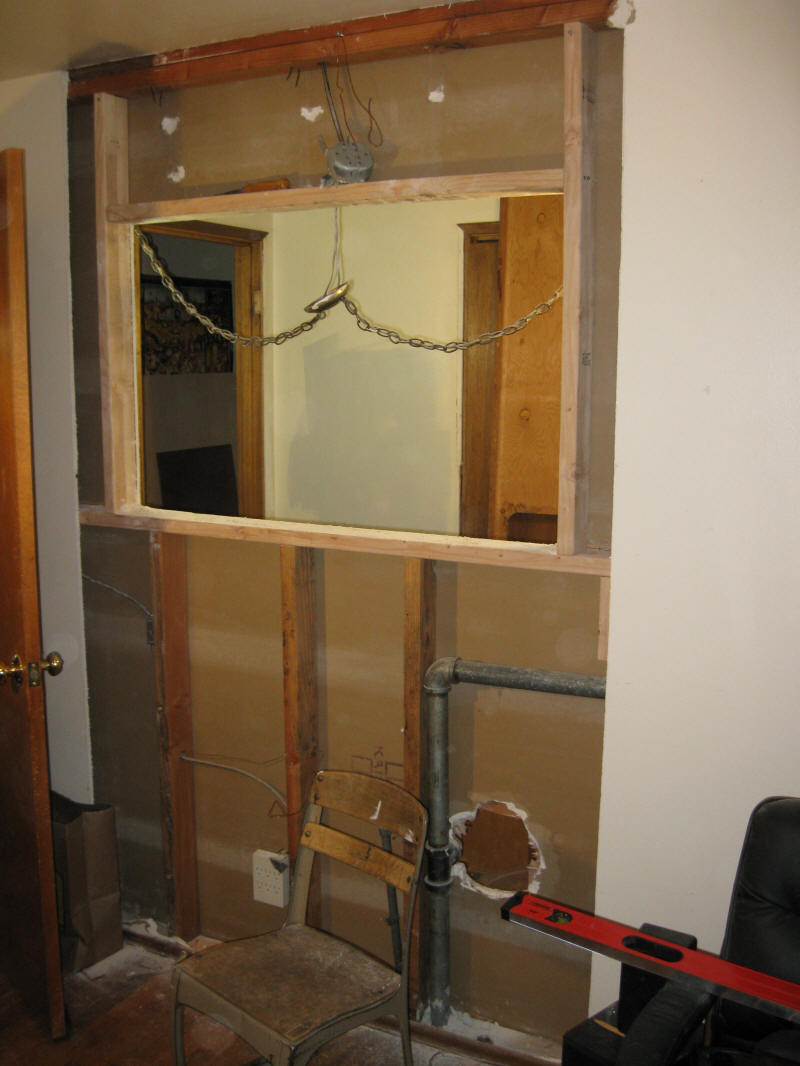 Framed For Cabinet Front Side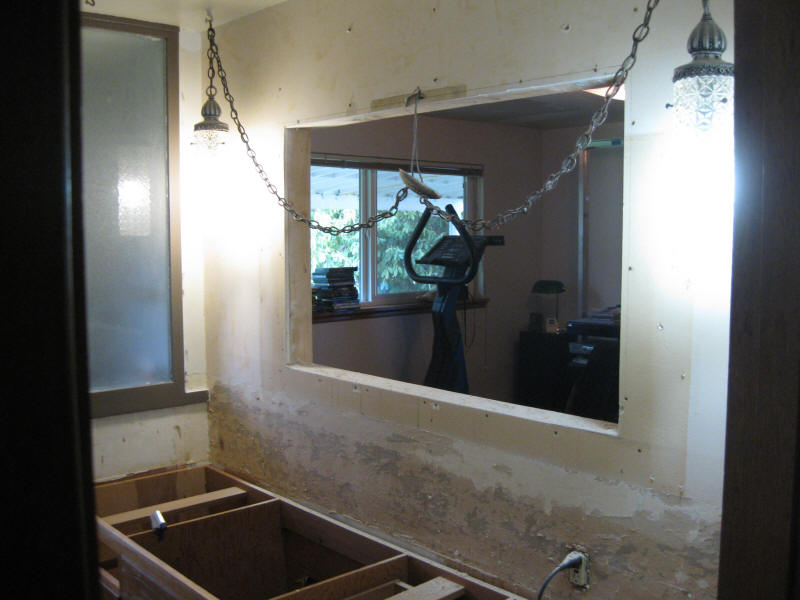 Med Cabinet Dry Fit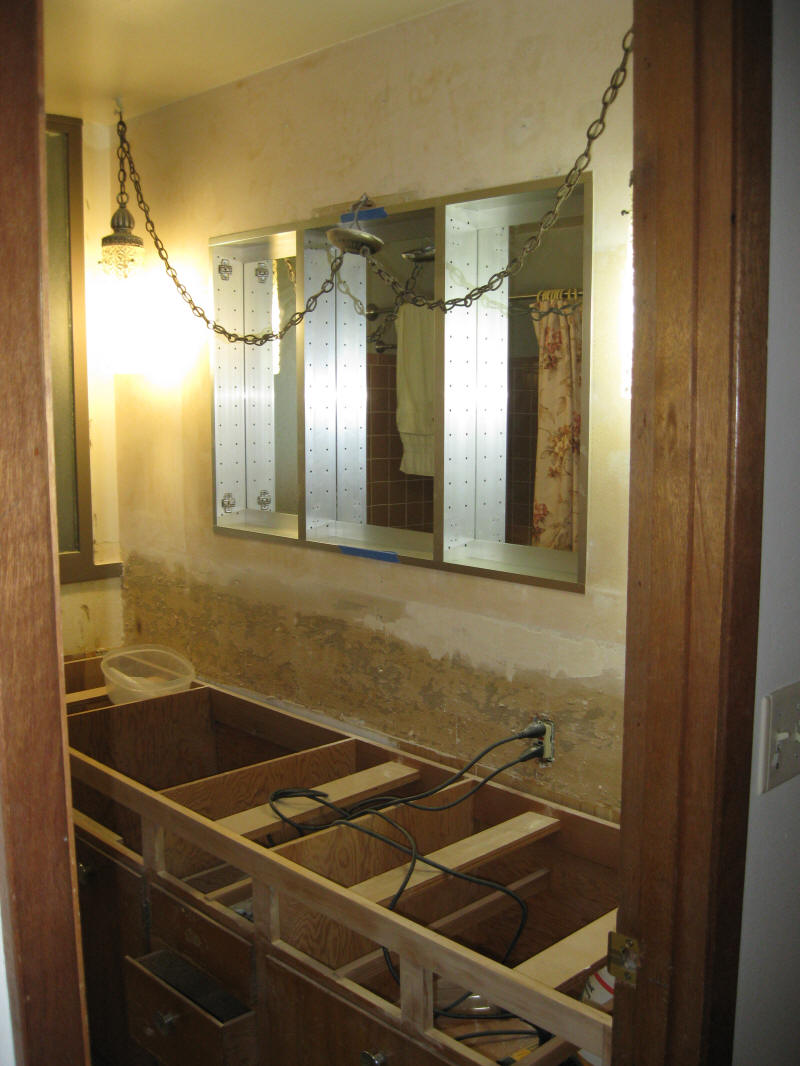 All in Place.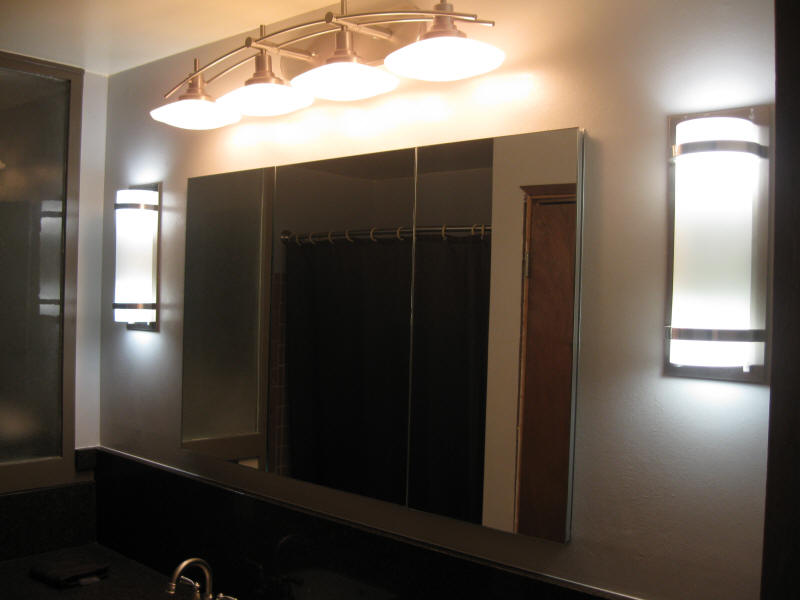 Countertop and Under-mount Cast Iron Sink
I really like the punch of the white undermount sink below the coffee brown countertop!
The cabinet doors and drawers will be rebuilt. The doors will be a flat panel in a stile and rail frame. The drawers will be a simple flat panel. All will be partial insert type. The existing face frame is cherry. I have not yet decided; I can use cherry with a clear finish, lyptus with a clear finish, or poplar and paint the cabinet. I can't get to this until I have installed the 13 custom kitchen cabinets (and all the stuff that goes in them) that are stuffed all over the house into the kitchen to give me some room to move around and start building again.
I'm deferring the bathtub renovation at this time. I'll re-grout and re-caulk to push this out a couple of years. It's some thing I can do later if I'm not replacing the tub. The tub has many years left in it but its not like it is new.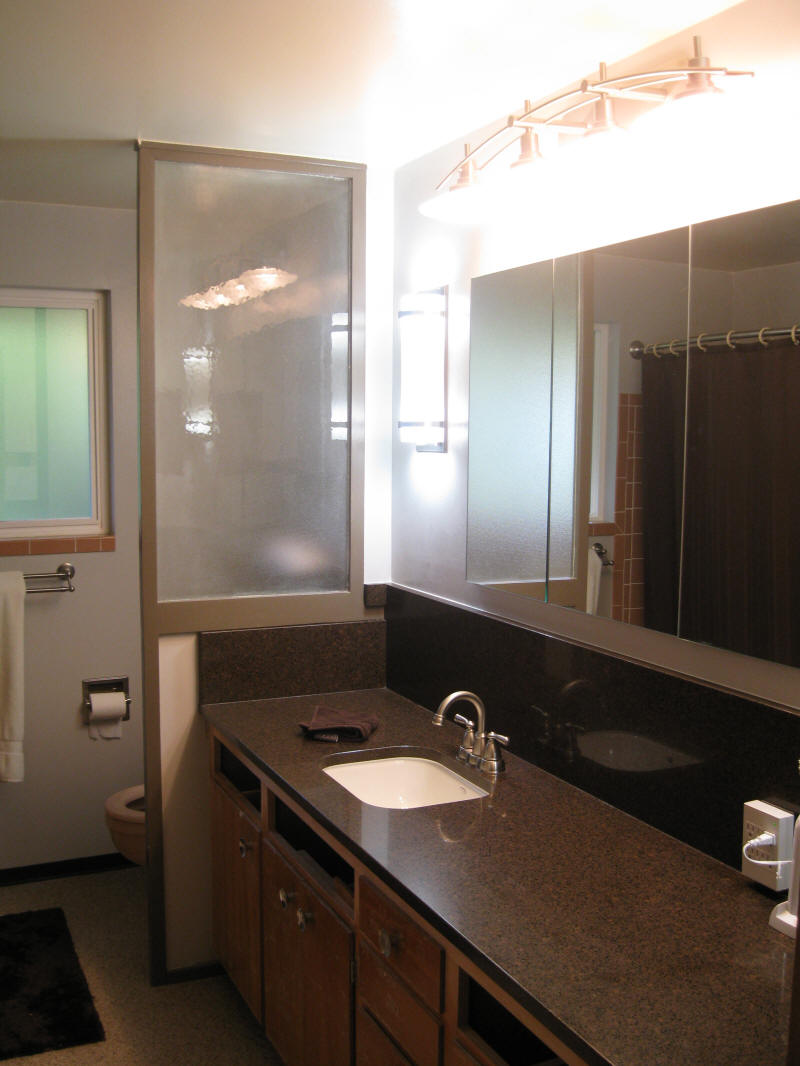 Kohler Tahoe Under-Mount Bathroom Sink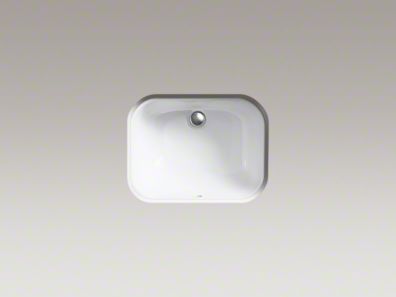 Right click and save these AutoCad drawings if you want them.
:
LAMPS
Minka Lavery 341-84 2 Light Wall Sconce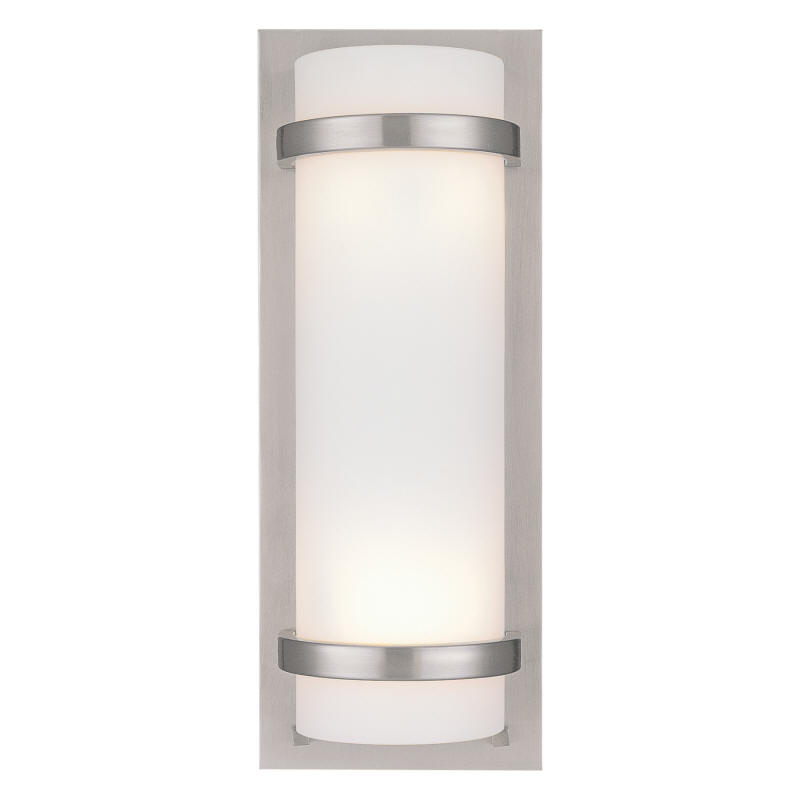 Kichler Structures 6464NI Lamp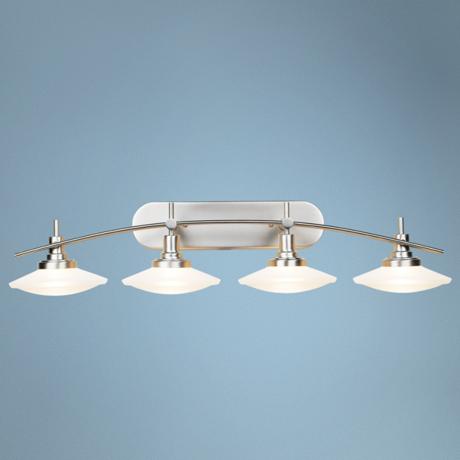 :
:
:
Other
www.Comforttoiletseats.com C3B4R2-30 Fawn Beige
Proc-a-Fix Color Card Porcafix
:
1/2 Bath
553CHSL 000
:
Colors: Benjamin Moore's Devon Cream OC-102, Stonington Gray HC-170, & Whitall Brown HC-69.
: